Revelation Matters Pt 2 - The Unholy Trinity
A 6-WEEK IN-DEPTH STUDY FOR THOSE WHO LOVE GOD'S WORD
Because time is short and quickly passing, we will continue our in-depth journey through Revelation for our six-week study this summer.
We will focus our attention on the three evil beings of the Great Tribulation, Satan, the anti-God, the Beast, anti-Christ and the False Prophet, the anti-Spirit. They are the UNHOLY TRINITY.
Since the beginnng Satan, desiring to be God, has imitated and counterfeited the ways and the acts of God. As always, his intention during the Tribulation will be to destroy people by hatefully deceiving them. He will present the Antichrist as the long-awaited Messiah of Israel and the False Prophet, looking innocent, will powerfully persuade the world to worship the Antichrist and the devil, or be beheaded.
Join us as we diligently search the Scriptures to give us understanding and insight for living during these last challenging days. Let us be equipped with the truth so that we may speak truth concerning all that the Lord has revealed to us even about the unadulterated evil of the Unholy Trinity.
NOTE: This is Part 2 in the Bible study series on the book of Revelation. You are welcome to join us even if you haven't taken Part 1.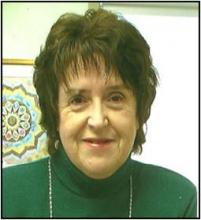 Co-founder of Solid Ground Ministries and gifted Bible teacher. Ruth is extremely well grounded in the Word of God and is dearly loved by her students. Ruth has a God given ability to communicate clearly the unchanging truths of God's Word with passion and delight. She has been teaching God's Word with Solid Ground since its inception in 1991. Her prayer for herself and her students is that, through the Scriptures, they might come to know their God intimately, to love Him deeply and to serve and obey Him wholeheartedly. Ruth enjoys living single - a life of "undistracted devotion to Christ".