Heaven, Hell & Angels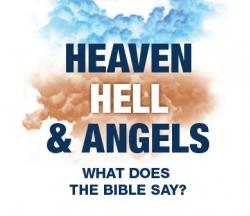 Dates:
July session: July 16, 17 and 19; August session: August 13,14 and 16
Online registration is not open at this time.
A SUMMER BIBLE STUDY FOR KIDS ages 10 to 13
There are many ideas about heaven, hell and angels presented in literature, media and society in general. In this study, the Bible is our authority to discover what God's Word teaches about each of these areas. This three lesson study will be offered on two different weeks of the summer.
Classes will be held from 10:00am to 11:15am on:
**Monday, Tuesday and Thursday morning on July 16, 17 and 19,
and repeated on,
**Monday, Tuesday and Thursday morning on August 13, 14 and 16
Please note:
This course is designed for children ages 10-13. It is very important that the kids who come to study are personally interested in taking the course. In order to register, all participants will need to identify one reason they would like to take the course and also confirm that they are choosing to sign up. Children who are 9 or 14 years of age who want to sign up for the course will initially be placed on a waiting list. Space permitting, they will be enrolled after the registration deadline.
Registration:
Cost is $10 per student. Participants will receive worksheets for every lesson as well as a small snack each day. Please register either in person or by calling the office at 519-745-6115. The deadline for registration is Monday, July 9 for the July session and Tuesday, August 7 for the August session. Please note that class size is limited.
____________________________________________________________________________________________________________________________________
TEACHERS: Wendy Wiens and Monica Nickel
The teaching team for this study are long-time students of Solid Ground with experience teaching kids of different ages in various Christian Education programs. Wendy Wiens and Monica Nickel are passionate about teaching kids the truths of God's Word.