The Gospel of John | Jesus, the Resurrection and the Life
Dates:
Begins September 24-26, 2019
Online registration is not open at this time.
A 12-WEEK IN-DEPTH BIBLE STUDY FOR THOSE WHO LOVE GOD'S WORD
"Jesus, said to her, "I am the resurrection and the life; he who believes in Me will live even if he dies, and everyone who lives and believes in Me will never die. Do you believe this?" John 11: 25, 26
In all of what we know about Jesus Christ, there is always one central but all important question... "Does He have the power to raise the dead to life?" This is our great need and this is the awesome promise of God in His Son. We have the wonderful assurance of the truth that in Jesus Christ, not only do we find the words of life but we find He is the Giver of Life.
If you are looking for hope in our increasingly broken and sinful world, then let's fix our eyes on Jesus through Whom God extends His grace to us and in Whom God raises the dead to life!
Come and be reassured that Jesus Christ truly is the Resurrection and the Life!
NOTE: This is Part 6 in the Bible study series on the Gospel of John. You are welcome to join us even if you haven't taken Parts 1 - 5. This course starts with The Gospel of John chapter 9.
A new workbook was required when we started The Gospel of John Part 4. If you did not order a new workbook, you can select the workbook when you register.
Books ordered by Friday, September 13th, 2019 should be available for the first class.
________________________________________________________________________________________________________________________________________________________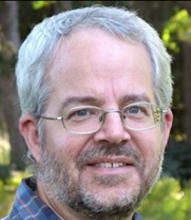 John has been a student of God's Word for many years and has a deep love and sense of awe for the Scriptures. He loves to share the truths of God's Word so that His people may grow in their love for their Saviour and live a faithful life of obedience unto Him.
John and his wife Joy are parents of four children and make their home in Stratford, Ontario.